The beneficiaries of the Program of Education, during the winter school break, visited the Winter Children's Science Camp organized by the Center for the Promotion of Science.
During the five days that the activities lasted, the Program's professional and volunteer team guided the children and brought them back from the camp.
This year's theme of the camp was biorobotics as a combination of research into the living world and research into technology, hence the name "Electrical Biology!"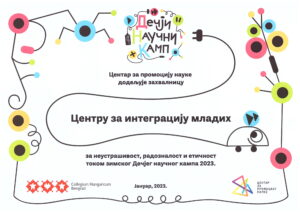 The beneficiaries of our program, together with children from the general population, created prototypes of new inventions with scientists and scientific communicators.
Every day, the children enthusiastically shared their impressions of what they did. Any opportunity to be with peers in a stimulating environment is valuable. In addition to acquired knowledge and new friendships, these and similar activities contribute to the better socialization of children living in extreme poverty, their inclusion, but also the destruction of prejudices, stereotypes and discrimination among children who come from the general population!
We are grateful for the invitation and the opportunity that our beneficiaries received and we hope that such and similar activities will be realized in the future.