The number 16 that gave the café its name is sprayed large on the wall. The graffiti catch your eye in the blue room where young people spend their time reading, drinking coffee, playing darts and laughing. The 8-year primary education in Serbia ends at the age of 15. And at 15 many young people have no idea what to do next. Especially if they come from poor families and are living at the margins of society. Café 16 is a focal point for young people. A place for them to feel at ease, to develop prospects for their future. The Center for Youth Integration (CIM) opened this café in 2017.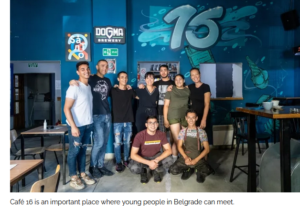 CIM is a citizens' social initiative that is partnered with the German Information Centre on Migration, Training and Employment (DIMAK). Their joint aim is to provide support to children and young people who live in Serbia or have returned there with their families, and to improve their life prospects. "We work very closely with DIMAK", points out CIM programme coordinator Jasna Bratičević: "education and psychosocial support are the pillars of our collaboration."
Recognising children's needs
CIM was founded by volunteers in Belgrade in 2004. They were no longer willing to ignore the needs of children in their city. They made their way to places where these children worked and lived. They went to the slums where they slept. "We spoke with them and found out what they needed most", Jasna Bratičević recalls. "It's incredible how easily we from the middle class misunderstand what people and especially children who live in acute poverty actually need most." What the street children needed was a safe place where they could get some rest and something to eat. They also wanted to be able to wash their clothes.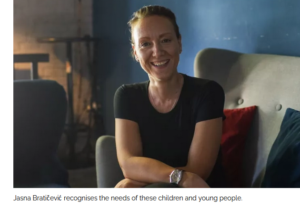 Help came in the form of "Svratište" – a drop-in shelter
CIM opened its first drop-in shelter in the Zvezdara district of eastern Belgrade in 2007. Its name Svratište (sanctuary) has now become a recognised brand. "Sometimes people haven't even heard of CIM, but they know about Svratište", says Jasna Bratičević. CIM opened its second centre in New Belgrade 3 years later. The accommodation gives the children somewhere to rest, wash their clothes and get something to eat. The young girls and boys there are supported by CIM specialists.
The main priority is to provide education. "Without that it's virtually impossible for these children to break out of the cycle of poverty. Most of them – we call them 'our children' – have families. But these families have been living like this for generations", reports the CIM coordinator. "The children are often not even enrolled in school or have missed a lot of time at school." CIM speaks with the parents and assists them in getting the missing documents to allow the children to be registered at a school. "These families without papers often lead a life completely excluded from society", Jasna Bratičević explains.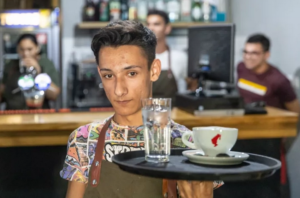 Café 16 is a place where older children can meet
The CIM drop-in shelter supports children aged 5 to 15. But what happens after that? The pressures of poverty, missed education and a lack of role models mean that only very few go on to a secondary school or college. Most of them start working immediately, almost always without a contract. This usually involves hard physical work in construction, or the collection of recyclable materials from waste. Given this difficult situation, CIM also wanted to provide a place for young people who are too old for the drop-in shelters. And that's why Café 16 was opened. This social enterprise trains young people. They're also offered counselling, including in cooperation with DIMAK. More than 60 young people and young adults have already been given special mentoring and support. Some of them are still working in the café, while many others have new jobs after their training. One example is Albert, who tells his story here.
Protecting young people
"We can help the young people to find a job. But we also want to know who they're working for, because they also have to be safe", Jasna Bratičević points out. Having a regular job is a massive step forward for these young people. "It increases their self-confidence and self-esteem. They are finally able to rent an apartment and leave the slums." Some of the young people who were previously protected have even gone on to secondary schools or colleges, which improves their job prospects. "We're here for them until they're ready to be independent", says Jasna Bratičević.
*The text is taken from the website of the global program of the German Development Cooperation for Migration for Development:
https://www.startfinder.de/en/experiences/ser-a-place-for-children-and-young-people