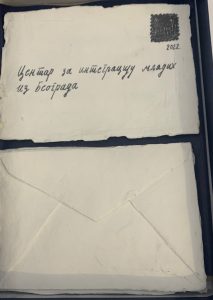 The Center for Youth Integration expresses its gratitude and pride for receiving the "Remembering of Hilda Dajč" award in the Youth Recognition category for the expressed civic responsibility and social awareness.
In Belgrade, on May 8th, in the University Library "Svetozar Markovic", an awards ceremony was organized, which marked two dates: 80 years since the young student and volunteer, Hilda Dajč, died in the concentration camp Staro Sajmiste, and 100 year of her birth.
Apart from the Center for Integration of Youth, the Historical Archive of Belgrade received the second recognition for its exceptional contribution to the culture of memory. The Center for Youth Integration thanks the organizers, the Foundation "Remembering Hilda Deitch" for recognizing the long-term work and effort we invest to improve the position of children in the street situation.